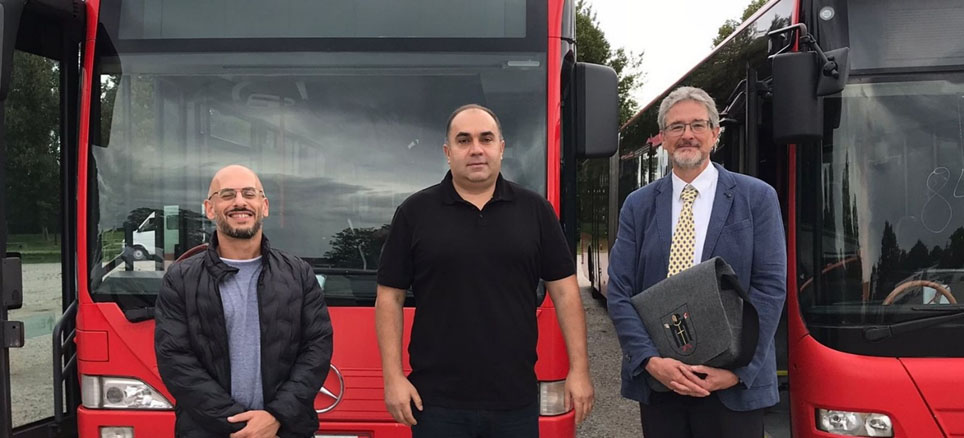 Frank Müller – Head of DB-Gebrauchtbus.de, Dr. Balasynovych – Berater von Vitali Klitschko, Michael Drexl – Landeshauptstadt München
Deutsche Bahn spendet Busse an die Ukraine
Linienbusse gehen als Unterstützung an die Menschen in Kiew • DB Regio Bus folgt dem Spendenaufruf von Kiews Bürgermeister Vitali Klitschko
DB Regio Bus spendet acht gebrauchte Linienbusse für die Ukraine. Dabei handelt es sich um Fahrzeuge aus ganz Deutschland, die für die Spende aufbereitet wurden und die jeweils bis zu 150 Personen befördern können. Die drei Gelenkbusse und fünf 12-Meter-Busse sind barrierefrei und können sofort in den Fahrgastbetrieb starten. Im bayerischen Weilheim hat DB Regio Bus die Fahrzeuge am gestrigen Mittwoch an Busfahrer aus der Ukraine übergeben, die die Busse nach Kiew überführen. Hintergrund der Spende ist ein Aufruf von Kiews Bürgermeister Vitali Klitschko, wonach die Ukraine dringend Dieselbusse benötige.
Frank Klingenhöfer, Vorstand von DB Regio Bus: "Mit der Spende wollen wir den Menschen in der Ukraine ganz praktische Hilfe leisten und ihnen unsere Solidarität ausdrücken. Als größter Anbieter im deutschen Busverkehr sind wir in der Lage, acht Busse aus unserem Fuhrpark zu spenden. Sie sollen das Leben der Menschen vor Ort ein Stück weit erleichtern, ganz unbürokratisch und schnell."
Die Busspende reiht sich in eine Vielzahl von Hilfsmaßnahmen ein, die die DB zur Unterstützung der Ukraine auf den Weg gebracht hat. So hat DB Regio Bus zu Beginn des Krieges mit Hilfe seiner mittelständischen Partner rund 300 Busse bereitgestellt, mit denen täglich bis zu 13.000 ukrainische Geflüchtete flexibel befördert werden konnten. Über die Schienenbrücke hat die DB zudem humanitäre Hilfsgüter ins Land geliefert. Die Deutsche Bahn Stiftung hat in diesem Sommer eingegangene Spenden für die Ukraine auf einen Gesamtbetrag von 250.000 Euro verdoppelt.
Are you interested in our vehicles? Then join us!
Take advantage of the offer of second-hand buses and vehicles of the largest bus company in Germany! On these pages you will find the range of used buses of the regional bus companies of DB Regio AG. Under the menu item Search for vehicles the vehicles are listed and offered for sale as part of tenders.
Prerequisite for access to the invitations to tender is a registration as a bidder, which you can make under the menu item Registration. Please note that our offer is aimed exclusively at natural and legal persons with unlimited legal capacity who act in the course of their commercial or independent professional activity. Excluded are consumers within the meaning of § 13 BGB.
Do You Have Questions? Then please contact us at This email address is being protected from spambots. You need JavaScript enabled to view it. or use the contact form.